May 2019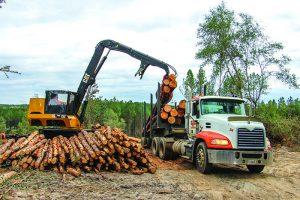 COVER STORY – Alabama's Catrett Hauls In Three States –
Hurricane Michael wasn't the first storm Marty Catrett has seen in his 34 years and counting logging career in the south-central Alabama community of Elba.
It was the first time he didn't see mills full or crews on every corner. "The logging force isn't there to do it," says Catrett.
Catrett's partner in his timber buying business, Dry Creek Forest Products, Tim Free, says, "When you go in you want to help everybody. But this is overwhelming. If you had 60 loggers down there markets wouldn't bear it unless you long haul and then it's problems with trucking."
Catrett owns Dry Creek Loggers and Dry Creek Trucking. Right now, crews are able to work storm-damaged tracts and survive long hauls thanks to the well-coordinated trucking operation.
Article by Jessica Johnson, Associate Editor, Southern Loggin' Times