April 2021
COVER STORY – McGuire Family Stronger Together In Arkansas –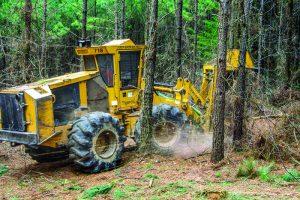 LAMAR, Arkansas – Necessity has been called the mother of invention, but it's also birthed a few business ventures along the way. Take McGuire Logging, Inc., for example. While founders Bill and Joyce McGuire did grow up with some connections to the industry – Bill's dad, John McGuire, owned a wood yard in the 1950s, and Joyce came from an extensive logging family – starting their own logging business wasn't something they jumped into right off the bat.
Bill and Joyce were married in 1971, a year after he graduated high school in 1970 and went to work at the Arkansas Kraft wood yard in Morrilton. After a brief shutdown at Kraft that required him to find work elsewhere for a while, Bill spent the next 18 years on that Kraft wood yard.
During that time he started dabbling in short pulpwood for extra money on the side, buying his own wood and cutting and hauling it to Kraft in his spare time.
By 1989, Arkansas Kraft was a division of Green Bay Packaging. The company moved to treelength material and started shutting down all its wood yards again. For Bill, the job he'd had since high school was gone. "That's all I've ever known." He told his wife when he came home that night. "I don't really know anything else to do."
A transition from part-time pulp-wooder to full-time logger made sense; it met their need. "Already had the truck," he shrugs. They used the severance pay he got from Green Bay to buy a skidder from one of Joyce's cousins who was in the business, like all of her family. Then it grew from there, as they gradually added loaders and eventually feller-bunchers, too.
Article by David Abbott, Managing Editor, Southern Loggin' Times