August 2019
COVER STORY – Mississippi's Priest Has Bases Loaded –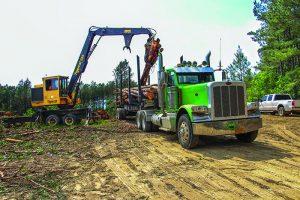 Talmadge "Tal" Priest has been running all his life…running track, running the baseball diamond and the football field, running a logging crew for his dad and now running his own company, Tal Baby Enterprises (TBE).
Although he grew up around the business – Tal represents the sixth generation of his family to make a living from the forests – for him, carrying on that family tradition wasn't the original plan.
"I had helped in the woods in the summers growing up," Tal says, but he had not considered it a career option for himself. "I had no intention of going into logging; I planned on working in a plant, maybe."
The former college athlete tried logging for a summer internship with his dad's company, CST Timber, and got bit by the logging bug.
Article by David Abbott, Managing Editor, Southern Loggin' Times