September 2019
COVER STORY – North Carolina's Chip Capps Runs The Numbers –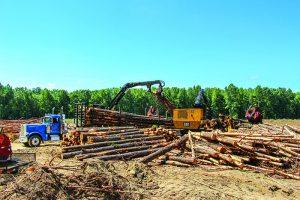 Chip Capps says his logging operation is fairly typical, but as a businessman, he's anything but.
Chip Capps has been logging all of his life. Minus a small stint at NC State in Raleigh, where he earned a degree in engineering and a job in Texas upon graduation, Capps has been involved in logging in North Carolina. But, he's quick to say his logging operation isn't that different than the others dotting the southern landscape.
Currently serving as the President of the Carolina Loggers Association (CLA) and a partner in timber dealership River Ridge with Virginian Ronnie White, Capps has seen a lot of logging crews in his time.
Capps realizes that the way River Ridge makes money is in separations. So, Capps' crews, which do business as Arcola Logging, strive to process every single tree.
With today's cost structure, Capps believes, getting production is vital. That's something he tries to teach Weldon, his 20-year-old son who operates one of the loaders on the bigger crew. "I am trying to get him to understand the idea that that is our only source of income. We've got to get as much as we can every day."
Article by Jessica Johnson, Senior Associate Editor, Southern Loggin' Times