October 2019
COVER STORY – Florida's Nathe Family Stands Tall –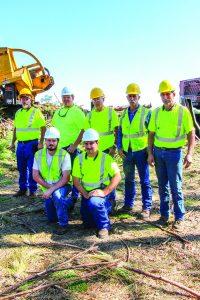 A child of the Great Depression, R.J. Nathe, 84, has been in logging, one way or another, for well over 60 years. He ran a chain saw five days a week for, in all, 34 ½ years, he says.
R.J. started the company, R.J. Nathe & Sons, Inc., he now co-owns with his wife and sons on October 7, 1957. He had just turned 22, but he was already a kind of veteran in the woods. His own dad had already logged for 28 years, and R.J. had started riding in log trucks at age 7.
He was driving a homemade skidder by the age of 10, and when he was big enough he started felling with a cross cut saw: "We called it a gator tail. Then dad bought a Homelite chain saw and I could just see us getting rich," R.J. chuckles at the recollection.
Much like their father, R.J. Nathe's five sons started following him to the woods when they were young, and learned to drive skidders by their tenth birthdays. Today all of them still work for the family business one way or another.
Article by David Abbott, Managing Editor, Southern Loggin' Times