March 2019
COVER STORY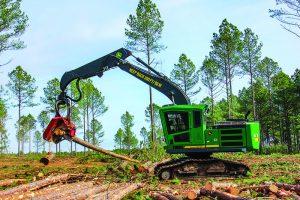 Processing Pays For Georgia's Mackenzie Brown –
Mackenzie Brown's company, Southern Pine Timber, employs two processor heads to merchandize "prime length" logs for Canadian company Interfor in central Georgia. The logger plans to expand his operations and increase production in the near future.
Interfor's "prime length" system means less waste at the mills and more efficiency on a daily basis.
Brown started his own logging crew in 2001 with only one employee. It's easy to see why Brown is optimistic about Southern Pine Timber's future. After starting with shoddy equipment, the company has steadily grown over time and looks forward to continued growth in 2019.
Article by Jay Donnell, Associate Editor, Southern Loggin' Times