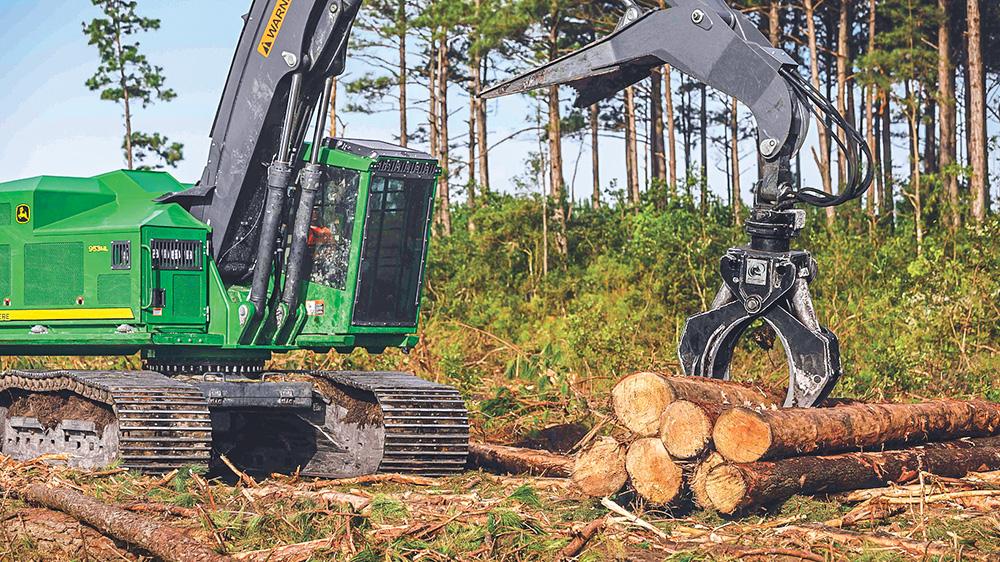 The new John Deere 953ML shovel logger provides a purpose-built solution for loggers operating in wetland and swamp conditions. The 953ML is equipped to help loggers outmaneuver muck, tackling challenging job sites with its powerful live heel boom, durable track system and comfort-boosting operator station.
Equipped with a 330 HP John Deere PowerTech 9.0-liter diesel engine, the 953ML delivers the power needed to tackle challenging conditions. The most notable feature on the 953ML is the 36 ft. live heel swamp-logger boom with its 60 in. grapple capacity. With the live heel boom, control over the positioning of the log is improved during timber-handling operations. Another key feature, the long and wide undercarriage, combined with excellent ground clearance and proven tractive effort, maximizes its maneuverability and flotation in soft, swampy and spongy conditions.
The operator station on the 953ML offers improved visibility, equipped with floor-to-ceiling front and side windows along with an overhead skylight.
Visit johndeere.com.