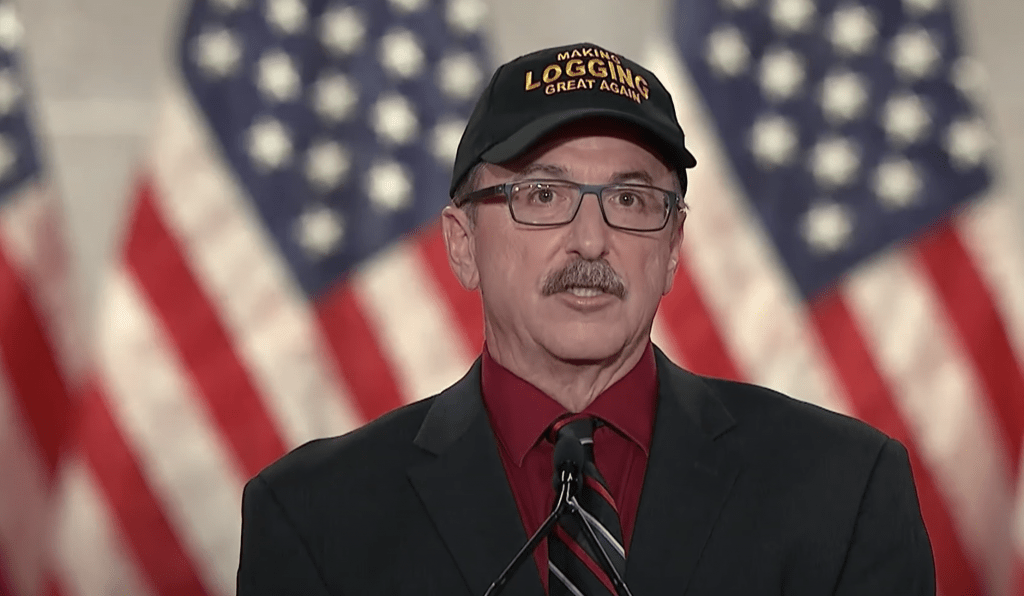 Wednesday, August 26, viewers of the Republican National Convention, perhaps hoping to see Vice President Pence or iconic football coach/analyst (and noted master of elocution and enunciation) Lou Holtz speak, instead had a pleasant surprise. A representative of the logging and log trucking industry took the stage in support of President Trump. Scott Dane, Executive Director of the Associated Contract Loggers and Truckers of Minnesota, and advocate for Minnesota loggers, delivered a speech at the Andrew W. Mellon Auditorium in Washington, D.C.
Part of the third night of the GOP convention, Dane's remarks fit in nicely with the evening's theme: Land of Heroes. "Logging has been a part of the great American story from the beginning," Dane said. "If you go to the U.S. Capitol Rotunda and look up, you can see loggers on one of the panels — New England settlers carving out a new world from the wilderness."
Stepping up to the podium at 7:40 p.m., sandwiched between Gov. Kristi Noem of South Dakota and Sen. Marsha Blackburn of Tennessee, Dane spoke for about two minutes, wearing a suit and tie with a cap bearing the phrase "Make Logging Great Again."
"Logging is the most dangerous job in the country, but we embrace that risk because we know America was built by strong people building things together," he said. "America needs us to keep building, and we can't wait to be part of it."
Calling out Joe Biden by name, Dane went on to blame the policies of Democrats and radical environmentalists for forest fires and mill closures, while praising the Trump administration for recognizing the value of proper forest management in reducing wildfires and for other policies beneficial to logging. "We've seen new support for our way of life—where a strong back and a strong work ethic can build a strong middle class," he added.
Responding to the speech the next day, Virginia Loggers Assn. Executive Director Ron Jenkins wrote, "For a moment, leave the politics out of your thought process and just focus on Scott's real message. Forests have survived our human intervention and we have learned much from history. Managed forests will continue to provide many benefits and they will be around for future generations. Regardless of what political party you call your own, we know that good policies are those which promote science, innovation, strong markets and multiple use."
In his conclusion, Dane stated, "We want to build families where we're raised and stand by communities that have stood by us. We want that way of life available for the next generation and we want our forests there, too. President Trump, thank you for helping us do just that."
If you missed it on TV, you can find Mr. Dane's portion of the broadcast on YouTube: https://youtu.be/JTyHC2zN2Kk.