"The Southern Loggers Best Friend"
Published 12 times a year in a tabloid format, with forest family-friendly outreach, on-site logger interviews and profiles, and flavorful blend of information and entertainment, Southern Loggin' Times is the most popular publication that focuses on the forest-rich South.
Current Issue
Subscribe
This month, SLT is focusing on the future of logging with feature stories profiling three of the bright young men taking up the mantle for the next generation. South Carolina's Rick Bennett and Louisiana's Thomas Johnson both grew up around longtime logging families, but only just started their own companies last year. Meanwhile, Tennessee's Zachary Comer has a similar multigenerational timber pedigree but has been on his own a little longer, since 2016. It's a difficult time to start logging, but these three are meeting the challenge.
The SLT news is a way for us to fill in the gaps between issues. We are now capable of giving readers more – providing the latest news, information and short feature-type articles from behind the scenes of Southern Loggin' Times.
Images are submitted by readers. Email submissions to [email protected] Images will appear on the Southern Loggin' Times Facebook page and website.
Southern Loggin' Times is looking for top quality story leads on progressive, successful loggers and logging companies that are leaders in their field.
New photos are now available from the old photo archives of Hatton-Brown Publishers. Each quality print is available in black and white or a special antique sepia tone. Great gift idea!
Search the current issue's advertiser index from A-Z. This listing is a free service for advertisers and readers.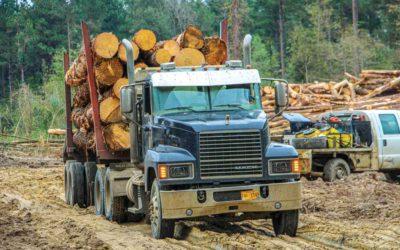 This month I was determined to find out how rapidly increasing fuel prices are impacting the logging industry, so I reached out to a lot of the people I know. I got enough responses to fill the whole issue, but I only have a page available, so I was forced to cut out a lot of really good observations. Here we go…
read more
Have A Question?
Send Us A Message
P.O. Box 2268
Montgomery, AL 36102