Need To Create Bird Habitat? Call A Logger
This report was written by Kevin Smith with American Loggers Council and is reposted here with permission. To view the original article, visit amloggers.com
The American Loggers Council (ALC) and American Bird Conservancy (ABC) toured a site near Natchitoches, La., to discuss the essential role logging and loggers play in maintaining healthy ecosystems for bird habitats. In attendance were David Cupp, Walsh Timber and ALC Secretary/Treasurer; Kevin Smith, ALC Communications Director; Jeremy Poirer, International Paper Biologist; Enyart Mitchell and Joe Cooper of Echo Forestry, and EJ Williams of the American Bird Conservancy.
When you are in the woods with EJ Williams, her energy and love of wildlife is contagious. Almost like the forest is Williams' natural habitat. She has dedicated the past 25 years to preventing the decline of native birds, conserving essential bird habitats, reducing top threats to birds, and building an American-wide community of bird conservationists. She used her vast knowledge to discuss the importance of logging and forest management in maintaining healthy bird habitats.
Many birds rely on young forests for nesting and raising their young, and logging is the first step in creating healthy young forests. When loggers leave wide buffers along streams and rivers, they protect water quality and provide essential bird habitats.
The group visited a logging crew operated by Walsh Timber Co., on a privately held tract, managed by Echo Forestry. Logging the site was Jason Edwards of J&H Logging Coushatta, La., a second-generation logger and avid hunter.
A logger's livelihood depends on a healthy ecosystem where trees are sustainably planted and harvested—any different and their career would have an expiration date.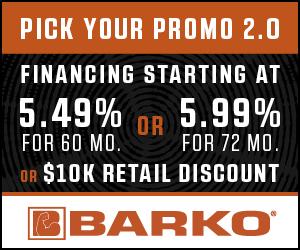 When the initial Pick your Promo promotion was launched earlier this summer, the folks at BARKO—from sales and marketing, to operations and finance—braced themselves for a dramatic increase in retail activity. By the time the initial promotion timeline had elapsed on July 31, the BARKO team was all-but hyperventilating. The response to the promotion was even more enthusiastic than the team had originally anticipated…
Have A Question?
Send Us A Message