September 2022
BIRCH RIVER, West Virginia – Company hats for logging entity Secondhand Tradition Ltd. feature on the front the company's logo, a simple image pregnant with meaning. It illustrates one hand handing a double-sided ax to another. On the back of the cap, an explanation is printed: "From Dad's Hand To Mine."
Read More
Subscribe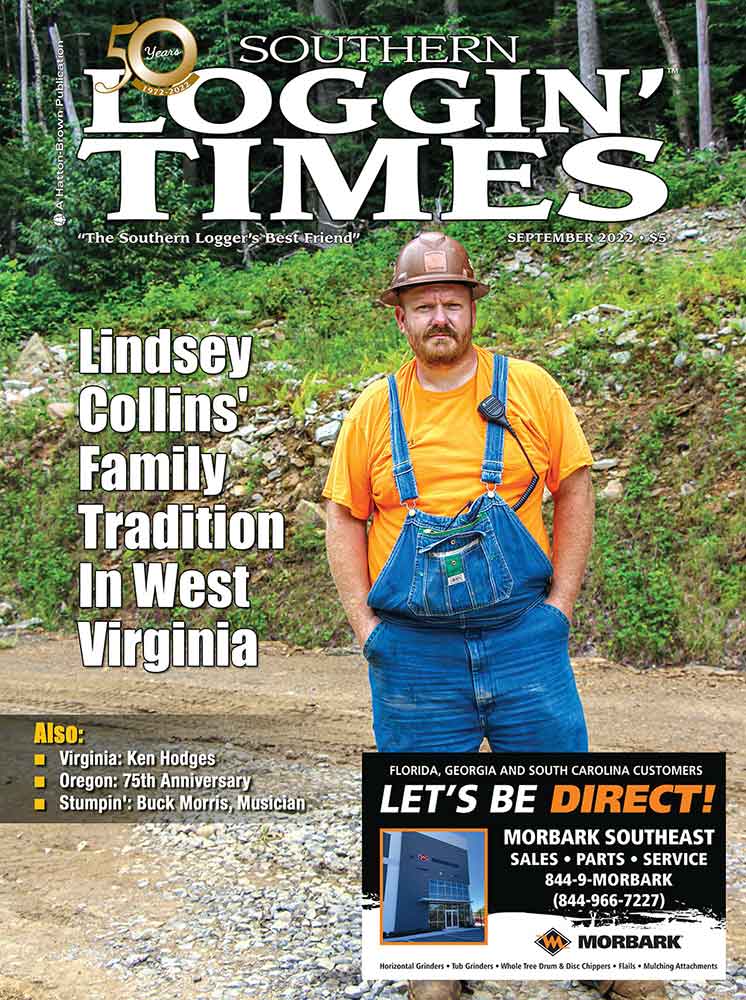 COVER: Lindsey Collins' Family Tradition In West Virginia
BIRCH RIVER, West Virginia – Company hats for logging entity Secondhand Tradition Ltd. feature on the front the company's logo, a simple image pregnant with meaning. It illustrates one hand handing a double-sided ax to another. On the back of the cap, an explanation is printed: "From Dad's Hand To Mine."
Article by David Abbott, Managing Editor, Southern Loggin' Times
SOUTHERN STUMPIN': Big Numbers
If you check out the top center of page 4, just under the logo, you may notice that this is the 600th consecutive issue of Southern Loggin' Times. At 12 issues a year, simple math tells me that with this issue, we have completed 50 full years of continuous publication.
Article by David Abbott, Managing Editor, Southern Loggin' Times
Multitasker
SOUTH BOSTON, Virginia – At the office and shop for H&M Logging, it is the appointed time for a scheduled interview with owner Kenneth Hodges, but he is nowhere to be found. Via cell phone, Hodges says he will arrive in 30 minutes. Another 45 minutes later, he apologizes for the delay and says he will arrive in 15 minutes.
It's an understatement to call Hodges a busy man. During the course of the interview in his office he is interrupted a few times with phone calls, meets briefly with his insurance agent, and signs the paperwork to buy a new skidder.
Hodges, 62, owns the company and two unrelated businesses, Hodges Farmland LLC and Cassada Farmland LLC. He says he has works in logging for 55 years. That would mean he got started at age 7—an early start indeed.
Article by Tim Cox
Making The Cut
NOTE: This article was submitted by Oregon Tool
When Oregon Tool's founder, Joseph Buford Cox, first invented the Cox Chipper Chain in his basement, he didn't envision what the company would become 75 years later. Today, Oregon Tool manufactures the "World's #1 Saw Chain," and our products are sold in 110 countries. While we're now an industry leader, out origins are humble.
Article by Jason Landmark, President, Forestry, Lawn and Garden at Oregon Tool
BULLETIN BOARD
Our Best Leisure Selections From Our Not-So-Sharp Minds
TRUCKING SAFETY
Collision With Train Injures Log Truck Driver
FROM THE BACKWOODS PEW: Upstream
Many people today are like that man. They have faint trust in their own vision, and perhaps even less in God. They like the idea of religion, the idea that they are loved. They enjoy the company of the nice people they encounter when they go to church. But when it comes to faith, they always go upstream. After all, if faith should prove unreliable, it will be easier to get back to the ramp. In this way, they never completely rely on faith. God is never completely trusted. They always have a back-up plan.
Excerpted from Reflections on Rebellion and Redemption, Bradley W. Antill author
INDUSTRY NEWS ROUNDUP
MacDonald Becomes Tigercat President
Ponsse Developing Electric Forwarder
Canfor Plans New Sawmill Near Mobile
Domain Acquires Southeast Acreage
MACHINES-SUPPLIES-TECHNOLOGY
Tigercat Launches Grinder
Deere Upgrades Loader Cab
Lindsey Collins' Family Tradition In West Virginia
Article by David Abbott, Managing Editor, Southern Loggin' Times
BIRCH RIVER, West Virginia – Company hats for logging entity Secondhand Tradition Ltd. feature on the front the company's logo, a simple image pregnant with meaning. It illustrates one hand handing a double-sided ax to another. On the back of the cap, an explanation is printed: "From Dad's Hand To Mine." A graphic designer created the logo from an actual photo that was taken when the dad in question, Roy Collins, gave his son, Lindsey, an ax that had belonged to his grandfather, Cecil Collins. It was a symbolic passing down of the family tradition from one generation to the next, memorialized in the company's name and logo.
Lindsey Collins, 43, the owner of Secondhand Tradition, is a fifth generation logger, and by all indications, he's doing right by his family's legacy. He started the company in 2006, but the last year has been a big one for him. For one thing, he just finished his first full year operating a winch assisted tethered system, allowing him to harvest timber in steep terrain that would be otherwise inaccessible by conventional means. He decided to give it a try last year; by all accounts, the experiment has been a success so far.
Along with that, this summer West Virginia Forestry Association recognized Collins as West Virginia's Logger of the Year for 2022. Those who know him have no doubt the honor was well deserved.
For instance, there's Pat Garrett (presumably not the one who killed Billy the Kid). A salesman at Ricer Equipment, the Tigercat dealer in this territory, he has a long and mutually beneficial relationship with Collins. "He's come such a long way," Garrett says. "We have had ups and downs on equipment, but I have told him I will always have his back. He has been a good customer and a good friend. He comes from a good family. His wife homeschools their kids. He is a good Christian oriented guy; if we had more people like him out there it would be a better world."
Have A Question?
Send Us A Message